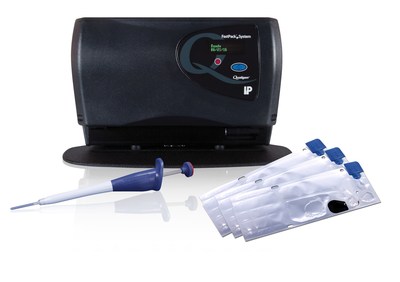 The Sekisui FastPack IP System is a hands-free quantitative immunoassay analyzer that is very instrumental in physician office laboratory settings in Asia, Europe, and America. The FastPack IP System was specially crafted to enhance efficiency and save costs and time in laboratories. It incorporates sophisticated technology such as chemiluminescence to attain complex immunoassay results in 12 minutes or less. The FastPack IP System is recognized as the only quantitative immunoassay analyzer that can be used to yield critical values in healthcare facilities with only a push of a button. Some of the values the system can deliver in just a one-touch operation include;
Human Chorionic Gonadotropin (hCG)
Vitamin D
Testosterone
Thyroid Stimulating Hormone (TSH)
Prostate Specific Antigen (PSA)
Features
Some basic features of the FastPack IP System include;
conducts immunoassays on plasma samples and serum
Has an external printer
Output is displayed in a 2-line Alphanumeric Display
Uses Paramagnetic Particle technology
Dimensions: 13 x 9 x 12 inches (33 x 23 x 30 cm)
Electrical power requirement of up to 100 watts
Preferable relative humidity of between 10% and 80%
Best for vitro diagnostics only
Weighs 12.99 kilograms (28.64 lbs)
Field Service options includes an upgrade of ROM Card Firmware
Preferable temperatures:15°C(59°F) to 32°C(90°F)
Optimal Operating Altitude: = 2000 m (6562 ft.)
How to use the Sekisui FastPack IP System
Just like any other lab apparatus, the FastPack IP System is delicate to use. The following simple steps will help you use this analyzer;
Lab preparation
Start by writing the patient's name or ID as well as the operator's initials
Pipette preparation
Press while holding the pipette plunger down to open and extend the metal grippers
Press the pipette firmly into the pipette tip while holding the plunger down. If you persist, the pipette tip will snap in place before releasing the plunger
Ensure the pipette tip fits properly at the end of the pipette. You can verify if it's intact by pressing the plunger down gently up to the first stop and then releasing it. If the piston has not fitted properly, you may hear an audible "click".
Preparation of the FastPack
Begin by pressing the pipette plunger down gently to the first stop then pause for a while. You will then insert the pipette tip into the sample tube then withdraw sample by releasing the plunger slowly. To ensure the sample doesn't contain any air bubbles, you should thoroughly inspect the pipette tip.
Completely insert the filled pipette tip into the FastPack IP injection port with your finger off the pipette plunger. The pipette tip should be able to fit tightly
Ensure that the pipette tip is properly fitted into the injection port.
Press the pipette plunger all the way down in a single continuous motion up to the second stop. This move will simultaneously inject the sample into the FastPack and automatically discharge the pipette tip.
Be cautious not to unseat the pipette tip from the injection port since the tip acts as a plug that seals the sample in the FastPack. In case of any leakages, carefully dispose of the pack and begin the procedure with a different FastPack.
Conducting the Test
Position the FastPack IP on the analyzer's door then align the pins on the door with the holes found on the FastPack before closing the door.
Press the start button on the analyzer
When the test is complete, open the analyzer door and remove the FastPack.
Print results on the attached label then peel it off to place it in the patient's records.